I love mornings when the kids wake up, and just want to snuggle for a while - before running through the house like hooligans! LOL Brenden came in to the computer this morning to "lay on" me. (That means he wants to snuggle on my shoulder while I try to type!) He managed to fall back to sleep so I laid him down on the sofa, and he started snoring again. When he woke up it was to request that I come lay on him! I love that nut!
Micaila woke up a few minutes after me this morning to state that she'd had a bad dream... So I told her to follow me 'cause I was heading into the kitchen with my hands full... Well, I put the kids' cups in the sink and my empty soda can from last night into the refundables, and realized she still wasn't in the kitchen... so I go to check on her - not 5 minutes has passed, mind you -only to find she is so deeply alseep again that she doesn't feel me touching her cheek! Wow! To sleep as deeply as these kids do....
I managed to get 1 LO done before bed last night, and 1 this morning using templates. I just wasn't feeling the whole scrappy mood so the templates take the design decisions off my hands! LOL
Last night's was for a Scrap-N-Chat template challenge at DSO: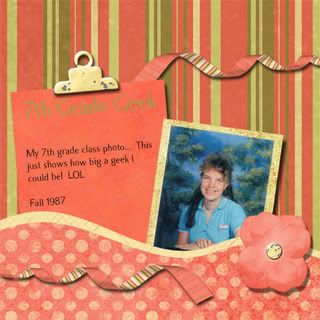 Credits:
Papers & elements from DSO's August Challenge Posting bonus - Summer's End - by PaoJava, HoleyCow, & Kim B.
Template by Darlene H.
Fonts: Caramella
This morning's is forPamela's CT:
Credits:
Paper & elements from the Sunshine mini kit by Pamela of Digitreats available on her blog.
Template from Baby Template Set by Pamela of Digitreats available at SAS.
Fonts: Comic Sans
Off to work on a paper LO I need to get done, breakfast for the kiddos, and then to work! :D