As usual everything comes down to the last 10 minutes before I want to leave for work... Mike was using the computer this morning so I haven't been able to upload my LOs from last night to DSO yet, but will do so after I get home. I managed to complete 3 pages for 3 challenges after 8pm last night. It helps when you know what you want to use before starting! LOL
It's actually 1 - 2pg LO which completes 2 challenges & 1 - 1pg LO which completes a 3rd challenge.
Title: One September Sunday
Credits:
Papers from the Hello There Welcome Wagon MEGA Kit by designers at DSO.
Doodle by me.
Photos by me & my dad.
Fonts: Grease
Playground pics from our outing on 9.16.07. Lo completes the September Ad & Numbers Challenges at DSO.
Title: This Love Is...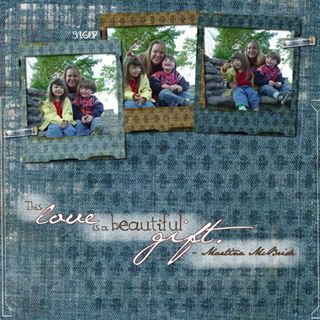 Credits:
Paper, frame, and denim loops from the 8.25.07 Color Challenge kit by Jackie Eckles.
Word art by me.
Photos by my dad.
Fonts: JaneAusten; hubbubhum-font

More photos from Sunday... LO completes the September Lyrics Challenge at DSO.