I've been up since 7am and have done dishes twice, washed a load of laundry (which I need to go put into the dryer), started dinner in the crockpot, and completed 1 LO. Phew! Is it nap time yet?!?!?! LOL It's post this quick, and off to work 'til 5:30...
I'm still working on the Sept challenges for DSO & DD... I finished this last night for JulieK's Monday Mixer - Week 1 at DD which was a scraplift challenge.
Title: PLAY
Credits:
Paper & flower from the Feelin' SAS-sy Kit by Julie O of Stone Accents Studio.
Glass brads by Pamela of Digitreats.Doodles & photos by me.
Fonts: Freebooter Script; Traditional Arabic; Tunga
Scraplift of "Let Life... Live Life" by Rona posted at Divine Digital.
And, this for DSO's BOM Challenge this morning...
Title: My Style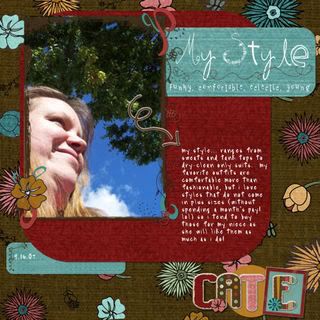 Credits:
Papers, alpha, & elements from the Creative Expression Kit by Tracy Blankenship available on her blog.
http://sds-bb.blogspot.com/
Fonts: 2Peas Goofball; 2Peas GG Mix; 2Peas scrapbook