I got a Rockin' Girl Blogger award from Sondra! TY! :D Now, to pay it forward I nominate:
1.
http://florescentjellybeans.blogspot.com
Tracy King for her super awesome freebies!
2.
http://nbk-nicnic.blogspot.com/
NBK Designs for posting no matter what mood she's in almost daily, and including large freebies of outstanding quality!
3.
http://designsbyselena.blogspot.com/
Selena for gathering long lists of blogs with terrific freebies in between all the other busy duties in her life atm. [hug]
On to other items... we've only managed to make about $45 so far this weekend with the yard sale, and still have more than half of the stuff we've put out to sell... guess I'll have to do this another weekend or two before winter. I'm so not in the mood for it today. I woke up with one of those nagging not-quite-a-headache-yet issues. We have possible thunder showers on the way for this afternoon, and I'd really like 1 day
OFF
before going back to work tomorrow... (Ok, enough of the whining.)
I finished this 2-page LO for Julie's CT & Monday Mixer Challenge this morning: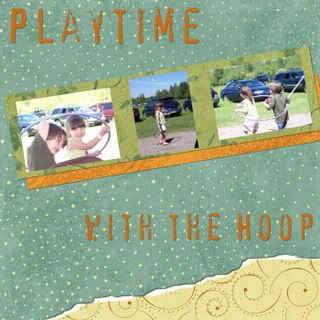 Credits:
Papers from the Summer Garden Paper Pack by Julie Kelley Designs.
Stamps from the Summer Stamps Set by Julie Kelley Designs.
Fonts: 1942 (date); Hootie!
Micaila and Brenden playing with a hula hoop at the family gathering after Uncle Richard's funeral.