But, not long enough... Thursday afternoon's fiasco was only a prelude to Friday and Saturday. It's getting to the time of year that not only are the parents/seniors panicking about the fact that they need to make yearbook deadlines, but also the time of year where they get more picky about what they are paying for.
NOT
that they aren't getting terrific portraits - 'cause Gary's work is excellent - but, more they didn't realize how expensive senior portraits
are
. They start looking for anything they can try to get for free.
But, yesterday was fun. Dad and I took the kids out to the large playground at Thompson Park for some fun & photos. We spent about 2 hours at the playground, then took a few photos at the stone circle structure near the playground before moving on to the zoo. I ended up with 193 photos of my own from yesterday, and will be downloading Dad's in just a few minutes.
I have to finish getting ready for work so here are the 3 LOs I finished after getting home yesterday:
Credits:
Papers & elements (including word art) from the Cowgirl Baby Mini Kit by MzCora.
Photo by Sears Portraits.
Fonts: FG Dulce's Font
Credits:
Paper & elements from the Country Time Kit by Kathie Woolery of KT Scraps available at Digitals.
Word Art by Gina Marie Huff available on her blog.
Polaroid photo frames from PSP 11.
Fonts: FG Crys; 1942

Journaling reads:
You guys had SOOOOO much fun today at the playground! I loved watching you run around, slide, swing, and use your imaginations!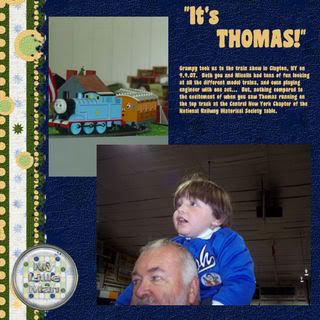 Credits:
Papers & button from the Junior Kit by Pamela of Digitreats available on her blog.
Fonts: Coaster

Brenden on Grampy's shoulders at the train show.