Short & sweet this morning - not much time before we have to leave. Dad & I are taking the kids to a the train show in Clayton today! The kids are pretty excited so it should be fun, and I should come back with plenty of photos to scrap! (Hopefully! LOL)
I checked out a website listing due to a MySpace bulletin posted by Heather Manning yesterday, and found out my birthday is on National Hugging Day... What did I do to deserve
that
!?!?
I finished 2 LOs last night after everyone had gone to bed, and 1 this morning. Enjoy!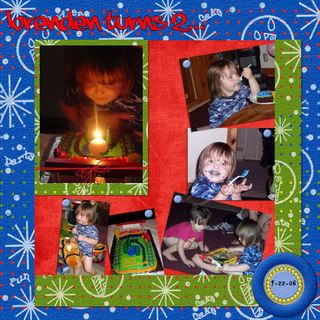 Credits:
Papers & elements from the Happy Birthday kit by Pamela of Digitreats available at her Ebay store.
Fonts: aaaiight!; 1942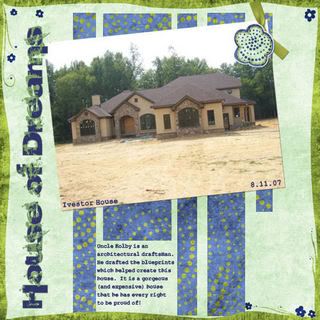 Credits:
Papers and elements from the July Monday Mixer Challenge kit by Julie Kelley Designs.
Fonts: Epoxy History; Escape TypewriterC
Journaling:
Uncle Kolby is an architectural draftsman. He drafted the blueprints which helped create this house. It is a gorgeous (and expensive) house that he has every right to be proud of!
Credits:
Paper, extracted flower, jewel, & tag from May Monday Mixer Challenge Kit by Julie Kelley Designs.
Acrylic hummingbird by SKrapper Designs.
Fonts: Little Days Alt
Journaling:
When I was about 10 I managed to catch a hummingbird with my bare hands... I remember vividly following it from tire planter to tire planter in my parent's front yard. The planters were made from recycled tires, and painted a bright shade of robin's egg blue so they are hard to forget! LOL
I must have followed that bird around the front yard for a good 1/2 hour before I managed to cup my hands around it. I was so excited that I had managed to catch something so small, quick, and beautiful! I had either Nora or Blayne open the door to the house so I could show Mom... who was in the bathroom. She didn't want to believe me so I opened my hands - just a little - to show her I wasn't lying, and wouldn't you know it - the bird got loose!
It must have taken at least 15 minutes to get it shooed out the door. I didn't see another hummingbird around our house for at least 5 years after that incident! Do you think he spread the word?!?