So I didn't manage to complete the paper LO before work yesterday, but I did finish it last night. I'm in a Circle Journal Swap at GS, and always seem to forget the date until the day it is supposed to be postal... so it is going out 2 days late this month. I think my issue with the date is that I do so little work in paper at this point that I forget the journal is even sitting there waiting... But here it is: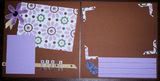 Credits:
Bazzill cardstock, 3 Bugs in a Rug patterned paper, MM minibrads, Pressed Petals chipboard flower, Prima flowers, American Crafts ribbon, JoAnns Scrapessentials alpha clips, and large rhinestone brad from Target's $1 spot.
It's really quiet so far this morning. Micaila was up for about 10 minutes at 6:30am because she'd had an accident overnight. Both kids are back alseep now, and Mike's only ventured down to use the bathroom before heading back to bed. I have to head out early this morning so I can drop the car off at the mechanic's to get the muffler wired up beforeI go to work. It came loose on Saturday, and sounds horrible. Every time I hit a bump it sounds like it is going to fall off completely. And, when I turn corners it must touch the frame of the car because the whole car vibrates.
Speaking of work... what is up with seniors??? I realize they are young, and life's supposed to be a party for them and all, but come on... We've been sending out mailings - over 600 letters/cards each time & at least 1 mailing a month - since May, and we still have people calling us to try to get in last minute for their yearbook photos. They seem to think we should have plenty of appointments to do this for them. I work for a professional photographer - not a store photo studio, and we've even had a couple of parents who assumed they could just bring their seniors in without appointments and get photos done! Jeeeeesh!
Anywho - I need to go finish getting ready for work. Here's the digital LO I created this morning: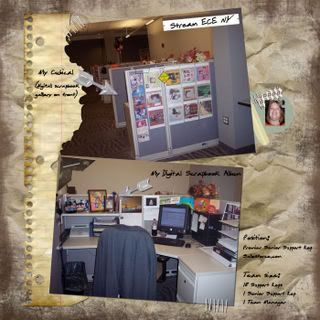 Credits:
Papers & elements from the In Short Supply kit by Royanna Lea Fritschmann.
Fonts: FG David
LO of my last cubical at the call center where I worked for 3 years and 11 months.