I'm going to try to post a scrapping related question for discussion each Friday. :) This week - Do you still scrap in with paper? I came across a comment on a thread or blog about a month ago where someone stated they were "Bi-scraptural", and I just loved how that sounded! They meant they scrap in both paper and digital. What about you? Are you a digi-only scrapper, a paper-only scrapper, a hybrid scrapper, or all of the above?
I still work in both paper and digital - although I'm about 90% digital now. I'm also attempting my first hybrid project! I've just found it so much easier (and CHEAPER! LOL) to work in digital as Micaila & Brenden are at an age where they have to be in the middle of anything I'm doing - which makes for a
VERY
frustrated me if I'm working with paper supplies.
-------------------------------------
I've been up since 4:30am again. I finally fell alseep at about 11:30pm last night with Micaila next to me on the footstool, and Brenden upstairs... Then woke up at 4am when Brenden decided to lay on my feet! LOL I got up after Mike left for work to run to the bathroom, and haven't been able to get back to sleep. While I was in the bathroom I heard a noise that I assumed was the cat trying to get out of her carrier... apparently it was actually a raccoon in the recycling on the porch because when I opened the door this morning to go take some pictures of the gorgeous big moon I almost tripped over tin cans...
So far this morning I've managed to:
- do dishes
- create 1 LO
- catch upon posting LOs to about 4 sites
- gotten the kids milk and pb&j sandwiches (I swear it is what they demanded for breakfast... Well, actually Brenden tried for bologna & cheese first so pb&j was a compromise. YUCK!)
- clean up the porch
- take a few good pictures of the moon
- take meat out of the freezer for dinner
- post this
- watch CSI Miami's season opener (DVR saves me - CSI NY & Vegas are still recorded - maybe tonight...)
-------------------------------------------------------------------
I have 3 LOs to share this morning...
Title: No Bake Cookies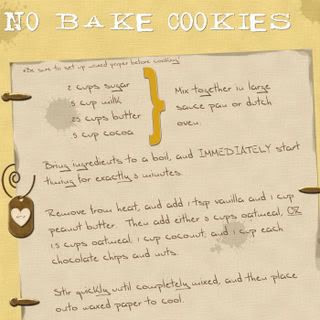 Credits:
Paper & elements from the Country Time Kit by Kathie Woolery of KT Scraps available at Digitals. (Burn brush used on papers with splat brush tips.)
Fonts: Facelift; FG Augustin
LO completes the Sept 2007 Recipe Challenge at DSO.
____________________________
Title: Just Horsin' Around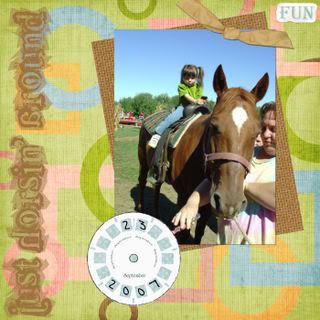 Credits:
Papers & elements from the Tina Kit by Pamela of Digitreats available at Stone Accents Studios.
Fonts: Final Lap; FG Crys
Micaila on Dolly at Behling's Apple Orchard.
____________________________
Title: Ten Things I Do Every Day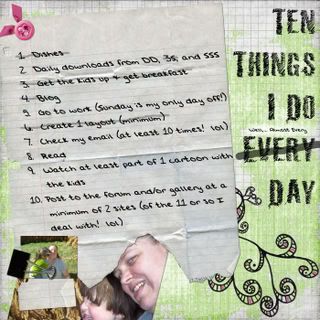 Credits:
Papers & elements from the Note 2 Self kit by Princess Lala Designs.
Doodle from the Free kit by Princess Lala Designs. (I added pink scribbles.)
Fonts: FG Crys; VTKS 36
LO completes the Sept Week 2 Monday Mixer Challenge.
---------------------------------------------------------------------
I plan to get all my new goodies burned to cd and home tonight or tomorrow so there should be a bunch of new LOs in the next few days! The boss is leaving work early today for another canoe trip! :D
Well, this has been a pretty long and rambling post so I think I'll let you go for now! I'm off to fold the load of laundry I washed & dried last night, get dressed, and it's off to work! Thanks for stopping by!