Not sure what happened... the $45 estimate was based on my niece's count of what money had come in, but when I counted out the money this morning there is only an additional $31.15?! Oh well, in any case definitely
NOT
a rousing success of a yard sale. We found last night when we went to take down our signs that someone else had taken it upon themselves to remove the ones we'd placed down the two roads leading to our corner. That may explain why we only had 3 customers - 1 of which was a repeat (She came back for 2 more items.) - yesterday.
I finished 2 other LOs yesterday before bed. The 2nd is all freebies from blogs, but the word art had no TOU document so if it is yours please let me know! :)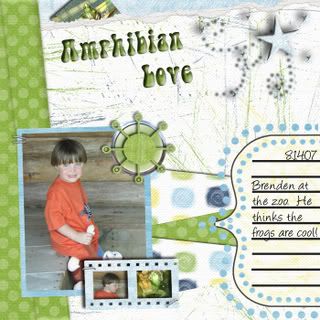 Credits:
Papers & elements from the Let's Hear It For The Boy kit by Tracy Blankenship available on her blog.
Template from the Templates with Altitude #1 set by Tracy Blankenship available at her store.
Fonts: Angelina; Bell Bottom.Laser
Credits:
Paper, frame, and flower from Endless Summer sampler mini kit by Misty Cato.
Ribbon tie by Newlife Dreams.
Word art quote by unknown. (Came from a blog, but there is no TOU included.)
Off to do the Monday morning stuff on Tuesday... Have a great day! :)