So starting about 3:30-4pm yesterday all hell broke loose at work yesterday... Between that time and 5pm I swear Sharon and I didn't stop helping customers either on the phone or in person for more than 5 minutes - and I think there was only 1 - 5 minute break... At one point I actually had 1 guy trying on a tuxedo, 1 mom ordering senior portraits from me, and 2 calls I had to return. Apparently none of these people realized it was Thursday not Monday...
I all ready posted about my evening so I'll just leave you with the 3 LOs I completed yesterday.
Another of Jaylin!
Credits:
Paper, frame, dragonfly pins, glittery swirl, &alpha from the Magiques Kit by Newlife Dreams Designs.
Butterfly overlay by Newlife Dreams Designs.

Brenden in Sept 2004 and Sept 2007...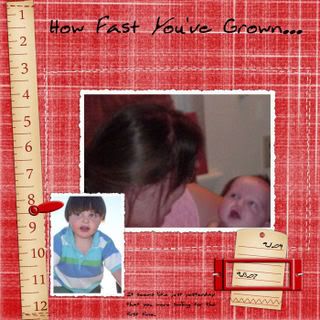 Credits:
Never Too Big QP by Sondra Teer of sondra-scraps.com.
Fonts: FG David

Micaila at the playground, and her drawing of us going there!


Credits:
Papers & ribbon from the Garden Kit by Sondra Teer of sondra-scraps.com.
Frames from the Shabby Frame set by Sondra Teer of sondra-scraps.com.
Fonts: FG Dulce