Yikes! Where, oh where, is the year going? Every time someone asks me the date at work I cringe! That ends up being several (dozen) times a day with proof album pickups and senior portrait orders/sittings...
This means we only have about 12 weeks left 'til Xmas... Have
YOU
started your shopping??? I've picked up a couple of small items for the kids, but other than that I haven't. I can remember when I used to have all of my shopping done by Thanksgiving Day. I started shopping in July for Xmas then. I also used to have all of my Xmas cards ready to mail by the day after Thanksgiving - not so now! LOL
So, what are your plans for Labor Day weekend? We're having a yard sale. The one that we've been putting stuff aside for for a year... I'm a little worried that having it on a holiday weekend will mean lower sales, but I haven't been able to get it arranged any earlier this year. Most everything is $1 or less, and I've posted it on Craig's List for our area so all I can do now is cross my fingers. We really need to get rid of this stuff. Most of it is clothes the kids have outgrown... since
BIRTH
!!! I actually still have several totes of more clothes at the shed in my parent's backyard that I didn't manage to get out & washed so we'll have to do this again next year as well.
This post is super early 'cause my niece is staying with us this weekend as well, and had her cell phone set to go off at 4:30am... Can anyone explain to me
WHY
a 12-year-old girl needs a wakeup at 4:30am during the summer?!?!? Of course, she didn't get the wakeup anyway since the phone was downstairs instead of upstairs with her...
It did allow me to finish this LO for SDD's Digi Bytes: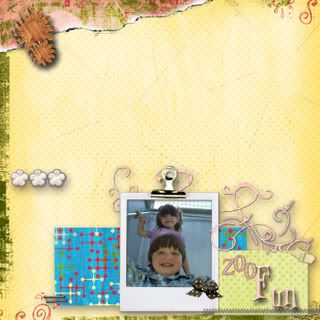 Credits:
Papers, cardboard flowers, and stitched alpha from Little Star kit by Amy Teets available at at ACOT and Oscraps.
Half-template by Amy Teets available at at ACOT and Oscraps.
Fonts: Jungle Juice (with paper overlay)
I'd better go start hauling stuff into the yard for our sale!