Another Monday morning... The beginning of another busy week. Our senior season is (finally) beginning to wind down. We had 3 schools with fairly late yearbook deadlines this year so it lasted longer than normal.
----------------------------------
I've been a little slower on LOs lately because I've been taking care of some odds'n'ends. Yesterday I went through photos to find some I wanted to scan; spent about 1.5 hours going through old receipts and mail to figure out what could be burned; vaccuumed the entire downstairs; did the dishes; got the garbage together & outdoors; ran to Super WalMart; spent about 2 hours scanning and 1 hour uploading the high school photos to MySpace; and then managed to complete 1 LO before falling into bed. I also got an email yesterday letting me know I'd won Purple Frog Pizzazz's blog comment drawing. Just for leaving a comment on her blog I got her entire new kit Blue Bird Bliss for
FREE
!
While at WalMart had to pick up plastic sheeting to put over the windows for the winter as the landlord hasn't managed to insulate & reside the other two sides of the house
YET
. He told us when we moved in here a year ago July that he planned to do it
LAST
fall... So there's my project for next Sunday.
I also finished 1 LO this morning, and both are for challenges over at Digital Scrap Garden...
-------------------------------------
Title: All In A Day's Play
Credits:
Papers and elements from the Blue Bird Bliss Kit by Purple Frog Pizzazz of Digital Scrap Garden.
Fonts: 2Peas scrapbook; 2Peas Grandpa; Vintage Typewriter; C39HrP48DhTt

The kids playing at the Primary School playground here in town. LO completes the 3F Challenge at DSG.


_____________________________



Title: A Moment In Time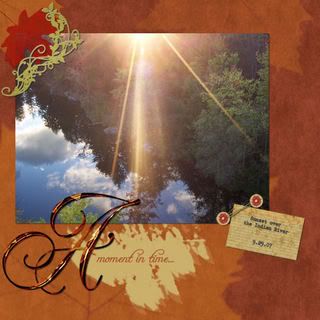 Credits:
Papers and elements from the Harvest Mega Kit by Cyndi Wetmiller, Sharia Braxton, and Amanda Coudriet.
"A" by Flutterby Designs.
Fonts: Freebooter Script; Vintage Typewriter

LO completes the Gimme A Letter Challenge at DSG.
-----------------------------------

That's all for this morning, folks! Thanks for stopping by, and have a great day!