We've got it again... The fog so bad you think you should be able to touch it! YUCK! It'll probably start burning off about 5 minutes after I leave home. I normally get just outside of town and wish I had my sunglasses! LOL
I spent about 40 minutes snuggling with little man this morning. He woke up earlier than usual and wanted me to stay with him. I had him crawl into my lap, and covered us up with my quilt. While he was attempting to go back to sleep (It didn't happen...) I watched CSI Vegas from last week. What is up with the bees???? At the beginning of the episode I assumed it was going to be a gas death due to the bee and the old man. Speaking of which - it just hit me - did they ever state what killed the old man...?
Anyway, kids have breakfast, dishes are done, cat is fed, livingroom is straightened up
AND
Febreezed. (Love the kids, but
WAY
too many nap time accidents in that room!) Now I need to finish this post, select paper products for the CJ I
should
have mailed off last week (bad me), take a shower, and head off to work. I just have not had any inspiration with this CJ LO...
I finished 3 LOs last night - all for DSG Challenges and 2 completed other challenges as well! I have 1 left to finish at DSG and 8 at DSO - not to mention 2 more weeks of Monday Mixer at DD, and random ones at GS. How are your challenges for the month coming?
--------------------------
Title: Hunting Buses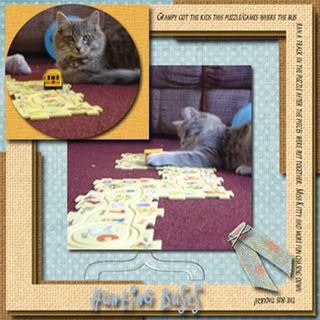 Credits:
Papers & elements from the Tina Kit by Pamela of Digitreats available at Stone Accents Studios.
Staple and glass } from the Essentials Kit by Pamela of Digitreats.
Template from the Mix-It-Up Challenge at SAS by Pamela of Digitreats.
Photos by my dad.
Fonts: Catnip; Carolous
Journaling:
Grampy got the kids this puzzle/games where the bus ran a track in the puzzle after the pieces were put together. Miss Kitty had more fun chasing down the bus though!
LO completes the Photo Challenge at DSG and the Mix-It-Up Template Challenge at SAS. (For some reason PS 7 exaggerates my drop shadows when it saves the file. My printed version looks much better...)
_________________________________
Title: Quiet Splendor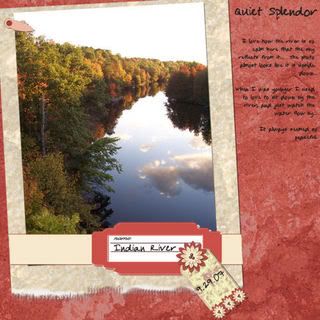 Credits:
Papers, photo turn, name tag w/ribbon, and flower from the Rainwashed Vacation Kit by Susan Wood.
Tag by Ladybug Graphix.
Fonts: FG Cheryl
Journaling:
I love how the river is so calm here that the sky reflects from it... The photo almost looks like it is upside down...
When I was younger I used to love to sit down by the river, and just watch the water flow by...
It always seemed so peaceful.

LO completes the Elementals Challenge at DSG.


_________________________________



Title: What A Grand Thing...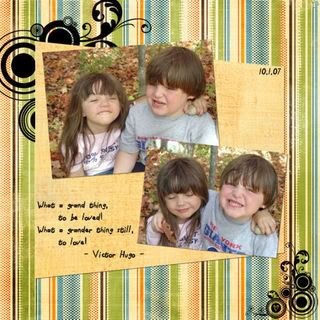 Credits:
Papers and stamp from the Vintage Retro Kit by Little Dreamer Designs.
Fonts: DSP Cybergram

LO completes the Quote Challenge at DSG and the Bare & Simple Challenge at GS.
-----------------------------

Thanks for stopping by, and have a great day!