So dad & I had toyed with the idea of taking the kids to Santa's Workshop near Whiteface Mountain today, but the weather report was still saying last night that we'd be having scattered rain through about noon. There were a few clouds when I woke up at 7:30am - back to that in a moment - but now it's about as sunny and blue as you can get. Go figure... We'd decided not to try 'cause there would be no point if it was raining. They're only open 10am-3:30pm, and they are about 2 hours away...
Micaila woke me up at 7:30am with her accident speech. Night-time potty training is not going so well. For every 1 night she stays dry there are 4-5 nights of accidents. I'm trying to keep drinks to a minimum after 7pm and have her try to go potty just before bed, but it doesn't aways seem to help...
So, I actually managed to "sleep in" - although that was only because I didn't get to sleep until about 2:30am... LOL I got off the pc at about 9pm to go watch a few of my recorded shows, and ended up watching CSI NY, CSI Vegas, Criminal Minds, and The Prince & Me (with Julia Stiles). I actually started to watch The Prince &Me II: The Royal Wedding, but decided that while I still didn't feel tired I was starting to get a headache so I turned the tv off... just as Brenden woke up whiny. So it took another 1/2 hour to get him back to sleep, and then I got to sleep!
I made my homemade mac & cheese for dinner last night - with some substitutions... I normally make it with 2-3 lbs of cheese, 4 rounded tsps of butter/margarine, 1 lb of pasta, and some milk. The cheese is normally shredded mozzarella, flavored cheddar (I like the Garlic & Herb best.), and maybe shredded pizza cheese. I didn't have time to go to the religious store here in town to get the flavored cheddar though so I decided to try making it with shredded mozzarella, cubed Colby Jack, French Onion dip (no butter!), 1 lb of pasta, and some milk instead. I think it turned out pretty darn well. It was definitely creamier than the norm. I could have used at least another 1/2 lb of cheese though... The kids got hungry while I was working so I ended up having to add about 6-8 slices of American cheese as well! LOL
----------------------------------------
We're having our last LO War of the year over at GotSwaps this weekend. The last two times we held it we decided on one Sunday, and from 10am EST-10pm EST whomever posted the most 8x8 or larger completed LOs won. The first time Barbara won with 26 LOs (all paper mind you!), and the second time I won with 21 paper and 11 digital LOs. The rules state that you can build page kits prior to the start time, but cannot start any pages if you want them to count. This time we couldn't all decide on one day so we decided to hold it from 12:01am EST on Saturday through 12am tonight.
I'm using this as an excuse to not only get a bunch of CT LOs done, but to use some of my freebie stash! I managed to complete a total of 7 digital pages yesterday. The first two were posted in yesterday's post. Here are the rest:
Title: Reed Family Homestead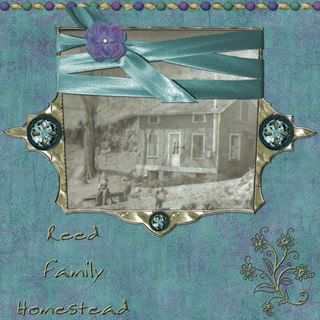 Credits:
Papers & elements from the Rest In Him Kit by Karla Kellum of Lifesong Kreations.
Fonts: FG David

My grandparents' house prior to additions. This photo was scanned from a negative.


___________________________



Title: Youkers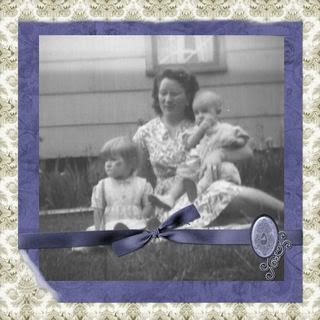 Credits:
Papers & elements from the Rest In Him Kit by Karla Kellum of Lifesong Kreations.

Relations on my paternal grandmother's side of the family. This photo was scanned from a negative.
___________________________
Title: Rainbow Warrior
Credits:
Papers and elements from the Farmhouse Collection by Raspberry Road Designs.
Fonts: FG Chris

Brenden on Rainbow Warrior (Bo) at Behling's Apple Orchard.
___________________________
Title: My Big Handsome Boy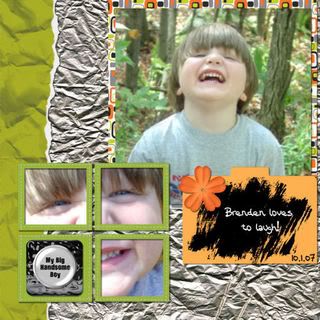 Credits:
Paper and elements from the Suburban Boy Kit by Raspberry Road Designs.
Fonts: FG Dulce's Font
___________________________
Title: Slip-slidin' Away...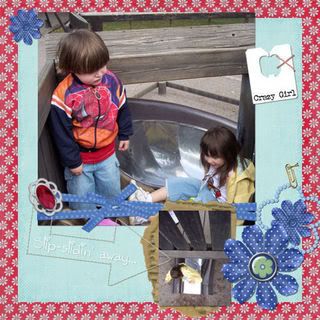 Credits:
Papers, flower brad and fabric flowers from the Happy Thoughts Sampler by Misty Cato Designs.
Bread tie, bread tie stitch, and torn cardboard by FernLili.
Ribbon wrap (re-colored) from the Northern Men Mini Kit and beaded flower by Traci King aka Florescent Jellybean.
Jeweled brad by Sweet Chic of Lilypad Lane Designs.
Arrow stitching from the Marmalade Addon by Maryse Vincent.
Fonts: Kaileen

Micaila and Brenden playing at the playground in Thompson Park.
--------------------------------------------

Thanks for stopping by, and have a great day!