So I slept fairly well last night even though I'm really tired this morning. But, maybe that has more to do with a certain chat that kept me up past midnight??? Hmmm??? LOL Oh well! It was tons of fun anywho, and I managed to win Heather's Personal Use Grab Bag during the trivia! [happy dance]
I knew I needed to try to stay up for the chat so I actually managed to watch Criminal Minds and CSI NY at their normal times instead of off DVR! Of course, it aslo helps that the kids weren't here because I'm trying not to watch those shows with them awake anyway. They've started referring to police as people killers... I've explained that police only kill if they have
NO
other choice, but that doesn't seem to make an impression.
----------------------
Oh! Awhile ago I downloaded Hello at a CT designer's request. I realize many of you use it, and figured it would be fun to get it setup... But, I don't have your usernames to add.. Either leave me your Hello ID in your comment, or add me: absolutartist1. I know I have Traci, Dawne, and Nonita! :)
----------------------
A couple of you have laughingly mentioned you'd like me to post a little earlier in the morning... Well, here's the deal: After I get up I have daily downloads to do from 3 sites, dishes to do, kids to get breakfast for, and LOs to work on. This week it is also my turn to post the daily Scrapbooking Question Of The Day at SDD. (Stop over and chat!) Now, I could just post a quick hi with no LOs, but I really prefer to share at least 1 a day, and as I've not had much evening mojo lately that means the post has to wait until I've finished at least 1 LO! :P (The post is actually normally started by 7 or 7:15am...)
That being said... I need to go finish my LO! Back in a bit!
----------------------
Ok, here it is... The 1 LO I managed to finish this morning...
Title: Tuckered Out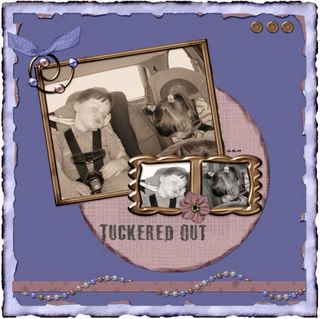 Credits:
Papers and elements from the Country Sampler Kit by Flutterby Designs of Digital Scrap Garden.
Photos by my dad.
Fonts: Vintage Typewriter; VTKS 36
------------------------
And, now I have to dash off to work. Thanks for stopping by, and have a great day!