It's that day again... The one I wait all week for - only to watch it rush by on fast forward... Today should be worse than normal because instead of being up at 6 or 7am I laid in bed 'til 9:30am. I just did not want to move. I think the lack of sleep (I'm normally awake 3-6 times per night) is catching up to me again. I only got 2 LOs done yesterday after work. I was hoping to do much more, but I felt like someone had put me on slow-motion... by 7:30pm my eyes were trying to shut. Really weird...
--------------------------------------
I stopped by Scrapstreet.com last night for the first time in months, and they had a whole new batch of free kits in their store! I am so happy I have braodband now 'cause it only took me about 20 minutes to download all the new kits. On my dial-up it would have taken 20 minutes to download the smallest of them! :)
---------------------------------------
Not much else to report this morning, and I need to go get started on my to do list so I'll leave you with the 2 LOs from last night:
Title: What's In There?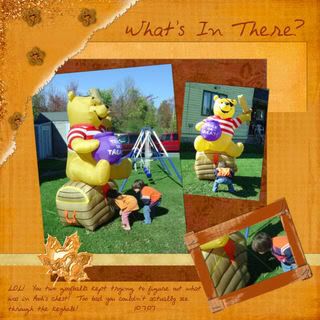 Credits:
Papers from the Basically Orange Paper Pack by Traci Murphy Designs available at Funky Playground Designs.
Frame from Painted Frames by Traci Murphy available at Funky Playground Designs.
Ribbon and maple leaf from the Summer's End Kit by Julie Kelley Designs available at Scrapbook-Elements.com.
Photos by my dad.Fonts: Avant que...
__________________________________
Title: Total Diva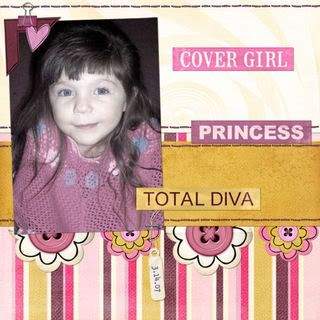 Credits:
Papers and elements from the Foxy Lady Kit By Miss Mint of Peppermint Creative.
Sketch by Molly Peckham of SDD.
Fonts: Vintage Typewriter
I desaturated the color on this photo, and then used cut & paste to put the full color eyes back in. I just love the look on her face here...
----------------------------------
We've got a nasty black cloud settling over us right now (And, it looks like a snow cloud! I wanna cry!)
Thanks for stopping by, and have a great day!