What is your very favorite embellishment? The one you just can't live without... the one you would keep stocked even if you wouldn't be able to buy others?
In the paper world it's brads for me - specifically MM antiqued round mini brads. If there is nothing else that suits my mood for a page those do! :)
In the digi world I'd have to say it's probably staples. Although the one I haven't gotten my hands on yet are any of those backwards staples! Those are so cool!
----------------------------
October's a busy month for us. Today's my mom's 60th birthday,
AND
the day she has to go back to work! LOL She had the last four days off because she had to use up the last of her vacation days before her hire date anniversary... which is today! Yesterday was my brother, Blayne's 4th wedding anniversary. (As well as, Kristine of WenchdGrafix and Cora of MzPimptress's birthdays!) Next week we've got Mike's grandmother's 80th birthday, my nephew, Trever's 9th birthday, and Mike's Uncle John's birthday. And, the week after that my brother,Blayne's 30th birthday and Mike's grandparents' 60th anniversary.
---------------------------
So on to my nominations for Thoughtful Blogger Awards. I only have 2 this morning, but I plan to give a few more in the next week or so...
1. Cora - aka
MzPimptress
- for offering up her creations (which are awesome) on her blog. Her work tends to have a rock-grunge feel to most of it which is so fun to play with! This month because of her birthday she's offering 1 small treat each day! Even when life gets in the way she'll be sure to post the late offerings! Be sure to stop by her blog to grab some yummy treats, and leave her some love!
2. Traci King - aka
Florescent Jellybeans
- again for her
VERY
generous blog offerings. If not every day, then
ALMOST
every day Traci posts 1-2
FREE
offerings which range from terrific embellishment sets to full mini kits to coordinating alphas. Most of her work is bright and funky and slightly off-beat! If you're looking for embellishments that are a little different from the norm I highly reccomend checking hers out!
----------------------
I spent all of my time last night after getting home trying to getRoad Runner activated... Needless to say over 3 hrs of trying didn't make me extremely happy, but I've got it now! I did support for Comcast broadband internet for almost a year so it's not like I'm completely clueless when it comes to this stuff... But, 4 years later if you haven't used it you tend to lose it! LOL Thank heavens for Dennis - the last rep I got on the tech support line. He was very patient as he ran me through a few things I'd forgotten.
With all the uploading and getting connected I haven't had much time to scrap in the last two days, but I just finished this LO:
Title: Live Laugh Love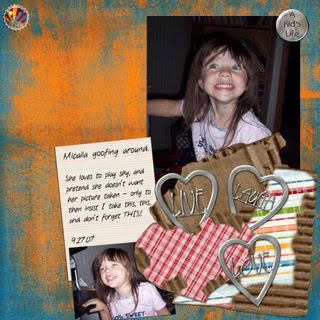 Credits:
Papers and elements from the A Kid's Life Mega Kit by Royanna Fritschman, Dede Smith, and Wolf Randolph.
Fonts: Note This
-------------------
My only plans for this weekend include a LOT of scrapping and cleaning!
Thanks for stopping by, and have a great day!
P.S. - Don't f orget there will be a new freebie tomorrow! :)