How many different sites do you upload your layouts to? I'm up to 13. Athough, I don't upload
every
layout to all galleries, and 2 I'm barely posting to anymore... I actually have Notepad documents for each kit by each designer I do CT work for to keep track of where to upload to and when the LO is completely uploaded...
How 'bout you?
-----------------------
I guessed Diane's secret!!! Can you? Hop over to her blog to pick up the clues from the last week or so, and email her your guess. If you guess the secret you get goodies!
Carjazi Scraps
----------------------

To answer some questions from yesterday:
1. Yes, the dog was caught. He finally laid down in the middle of the yard to let my dad pet him...

2. The pumpkin was carved by my dad from a pattern. Every year he carves 1 for my kids and one for my sister's kids. This year there are actually 3 because when he went to carve the two he found the one for Nora's kids was seriously icky on the bottom - to the point that he doesn't want to try to transport it to her house. So, Micaila and Brenden actually got 2 this year! LOL I'll be making LOs with the others soon. I have plenty of Halloween kits to go around! :D
-----------------------
I had a really terrible headache by the time I got home last night so I didn't do much on the pc like normal. Instead I vegged in front of the tv eating leftovers for dinner. I also trimmed Micaila's bangs as they were in her eyes again - for which I got a LOT of attitude. And, I trimmed up Brenden's hair. (It's a little shorter on one side than the other now... LOL)
When I finally did start to feel better I had to catch up loading my layouts to the Digitreats CT blog. After some minor modifications overnight I've finished uploading all of my completed CT LOs there... I've also managed this morning to finish uploading yesterday's LOs to all the required galleries, and uploaded my last two for Julie to all of those required galleries. So atm I think I'm up to date with all my CT work! LOL I do have a new kit from Karla I should get LOs done with this weekend. ;)
----------------------
For all the aforementioned reasons I don't have a new LO for you this morning, but I do have a creepy photo!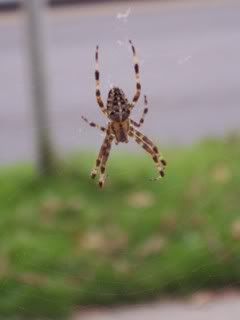 I'm the low man on the totem pole at work so I get to change our message sign out front. This fella (lady?) was waiting out there for me yesterday when I went to change the sign. You are seeing the spider approximatey full size btw... It was larger than a quarter! YUCK!
----------------------
I've rambled ridiculously, dried a load of laundry, done dishes, made the kids feed the cat, gotten the kids breakfast, and now need to grab a shower & get to work. Thanks for stopping by, and have a great day!
Oh! And, don't forget tomorrow there will be a new freebie! :D