It's that day again... There should be freebies everywhere today!
I spent most of the evening last night watching tv with the kids again. Has anyone else watched the Halloweentown movies? I think they're pretty cool, and the kids love them. They're on Disney Channel. Last year I found Halloweentown and Halloweentown II. Last night I found out they also have a Halloweentown High! If you haven't seen them and have kids (or
really
like Halloween!) I highly reccomend them! I'm hoping to find them on a bundled DVD this year...
---------------------
Diane gave me another blogging award over the weekend:
I'll have to think about who to send this out to...
---------------------
I finished 2 LOs this morning - 1 for a challenge at GS and 1 inspired by the challenge at GS!
Title: What's In A Name?
Credits:
Papers & elements from the Summer's End kit by Julie Kelley Designs available at Scrapbook-Elements.
http://store.scrapbook-elements.com/index.php?main_page=product_info&manufacturers_id=119&products_id=12154
Fonts: Marker Monkey; Marcelle Script; Times New Roman

LO for a challenge at GS regarding the story behind a name.


___________________________________



Title: What's In A Screenname?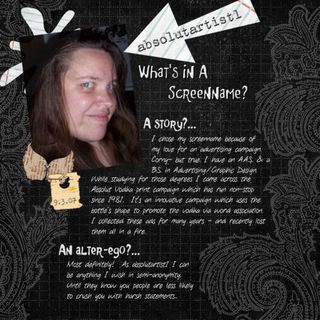 Credits:
Paper from the Back In Black Mini Kit by MzPimptress.
Notepaper shapes, cardboard wings, bread tag, and staple by MzPimptress.
Overlay from Gettin' Edgy 04 by Royanna Fritschmann of Divine Digital.
Fonts: Vintage Typewriter; Marker Monkey; Note This

Part 2 of a LO challenge from GS for the story behind a name.
--------------------

Not much else to say today so I'll be off! Thanks for stopping by, and have a great day!