Yesterday I announced that Diane had given me this award:
I've thought it over, and here are my nonminations to pass it forward:
1.
Raspberry Road Designs
for having absolutely awesome (and full size) kits on her blog for free! They are gorgeous! (And, I need to find some time to use some of them! LOL)
2.
MzCora
for designing different kits/elements, and often offering them up for free on her blog. Rock Me was awesome!!!
3.
Kristine of WenchdGrafix
for always seeming to have fun on her blog even when things are down, and for starting the Wench Town blog with my header on it!!! :)
4. Everyday Digital Scrapbooking for having some absolutely AWESOME tutorials on it!!I've learned how to do several things that had been puzzling me very quickly by reading their how-to's!
5.
Pamela of Digitreats
for taking me on as a CT member, and using my QPs almost immediately as freebies. Great kits, awesome freebies, and lots of support - what more can I say?!
That's it for now, but I may think of some more to post another day. :)
----------------------------------------
I didn't create any LOs last night because I was working on my 1st hybrid project for the 2nd evening. I now have 9 of the 12 sides for my decorative cubes done. You're actually supposed to cover all 6 sides of each cube, but since they are meant to stack I don't see the point in decorating the tops and bottoms only to have them get ruined with movement...
I did create this LO this morning:
Title: An Autumn Walk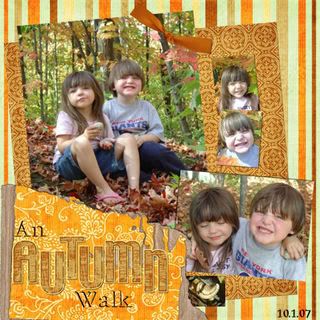 Credits:
Papers, elements, & alpha from the Summer's End kit by Julie Kelley Designs available soon at Scrapbook-Elements.
Photos by my dad.
Fonts: Emboss

Micaila & Brenden on a walk with Grampy.
----------------------------------------------------
I realized on Friday that both the car and the van were due for inspections in September... so I had to ask Dad to call the mechanic here in town to see if he could get them in as our normal mechanic doesn't do inspections. He could get 1 in yesterday, and 1 in tomorrow so as Mike has Wednesdays off and can take the van then the car went in yesterday - and failed. The front driver's wheel bearing was so shot the mechanic could wobble the wheel without removing any bolts... I'd been hearing a noise, but was hoping the tires just needed to be rotated due to wear. At least he can get it in to fix that and re-do the inspection today, but $200 later...
Oh! The photo that I was unsure about two posts ago... Dad told me the other two men are my great uncles, Juddy & Eddy.
If you wanted to grab my mini kit be sure to scroll back down for the link... There will be a new offering this Saturday! :)
Well, it's off to work again! Thanks for stopping by, and have a great day!